Do you want to use your ideas to create experiences that can't be clicked away? The ones that go straight to the heart and stay in the head? Would you like to put brand experiences from automotive events to future dialog in the right light and design all communication measures, from offline to online, from banners to POS, in an award-winning, owner-managed agency with famous international customers?
Then join our team and realize unique brand experiences with us that have a lasting effect – beyond the moment.
For this task, we need your professional support:
As agency for brand experiences, we develop those special moments that last far beyond the moment.
Innovative technologies and digital communication / experience possibilities are an essential part of our services.
For our fast-growing "strategy and innovation" department, we are looking for a project manager for realize innovation projects.
Your tasks with us:
Implementation of approved innovation projects within the scope of an event
Management of the cooperation between creation, operational event team, strategy/managing director and the service providers/partners
Set-up and management of the project: familiarization with the technology/user interface, setting deadlines, internal and customer coordination, project go-live, monitoring results, follow-up control as necessary, preparation of KPIS/result presentation
Calculation of innovation projects, internal and external coordination, invoicing and earnings control
Sparring with creative director and strategy director to (further) develop concepts for innovation projects and integrate them holistically into the event concept
Direct customer contact with implementation and consulting function
Search/research of further new technologies, calculation of test projects, inviting new interesting partners for presentation
Your Abilities / Experiences:
Excellent project management – on time, in quality, in budget – with several years work experience
Creative imagination and the ability to think creative concepts through (agency experience, studies, project experience)
Basic strategic knowledge/overall understanding of brands/positioning, target group profiles, trends, digital communication, KPIs
Affinity and personal passion for digitalization and in particular WhatsApp, VR/AR/XR, surveys, media/influencer
Very good written and spoken German
What makes working at EAST END so special:
Getting to know, learning from and further developing innovation projects
Tangible realization with visible success
A premium brand environment
Transparent structures and flat hierarchies
Advancement opportunity through specialization in a personal "core topic "
A team full of cool, helpful and hands-on colleagues
Regular training courses and seminars on our campus and further training tailored to the needs of each individual employee
A weekly English course
Sounds exactly like your job? Then we should get to know each other as soon as possible. Just as important as your portfolio is your motivation to get started in our team. Let us know what you like about EAST END and why you want to join our team.
We look forward to receiving your detailed application including your next possible starting date as well as your salary expectations.
Please use the "Apply Now" button for your application (if possible, please use Google Chrome).
Apply now
Want to know more?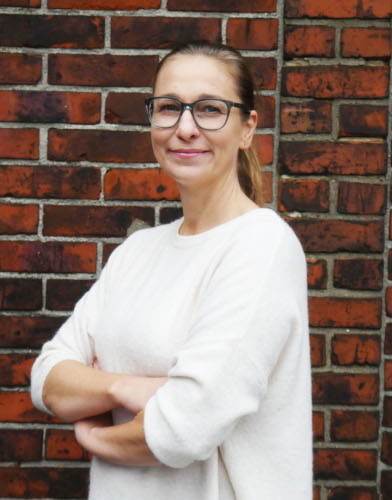 Kerstin Bannöhr
Human Resources
+49 40 899 60 61 62
Send E-Mail