At EAST END, idea acrobats meet up with number jugglers, perfectionist developers with daredevil event astronauts, thinkers with doers and northerners with mountaineers. Above all else, what counts in our colorful teams is true passion and the will to bring big things into orbit with one another.
We offer a creative work environment with motivated colleagues from various disciplines, flat hierarchies, personal freedom and opportunities for advancement, such as our EAST END campus.
Together, we bring unique brand experiences to life for well-known clients – at home and around the world.

1 Open jobs
About Us
MISSION
We create brand experiences that offer real opportunities for communication, which is why they continue to work beyond the moment.
OUR APPROACH
We are convinced that successful brand communication has more than ever to do with a personal brand experience that offers real communication occasions and therefore works far beyond the moment.
We believe that direct experience, true emotions and closeness create communication opportunities – because unique moments inspire people, are told and shared.
We are sure that by prolonging the moments the emotion will be intensified and the brand will be anchored in the minds and hearts of the people – and only then will its relevance sustainably increased.
VALUES
The four EAST END values – personal, reliable, competent and innovative – are more than just words; they are the heart of our agency culture and are lived every day.
learning agency
Our vision is to be a learning agency. What does that mean exactly? Continuous learning and the rapid transfer of new knowledge is more important today than ever and an essential part of our agency culture and attitude. In doing so, it is important to us: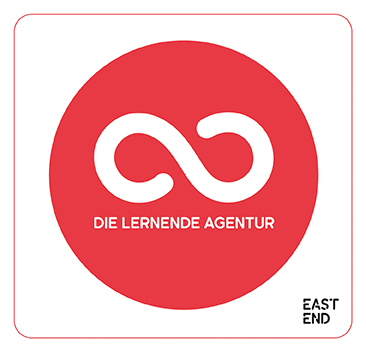 Making mistakes is not a no-go with us, but part of the learning process
A feedback culture in which we also take time for regular rounds of reflection at eye level to discuss what went well in projects and what may not have gone well either
our HR department is much more than administration and has, among other things, the task of advancing the topic of knowledge management. We want to share the experience gained quickly and thus help new knowledge and thus new ideas to develop elsewhere.
In addition, we attach great importance to actively promoting young talent by training young talents, letting them contribute their know-how to us and actively cooperating with exciting universities such as Treibhaus.
Click here to read the detailed guest article by Christiane Wiemann in the BlachReport about "East End as a learning agency".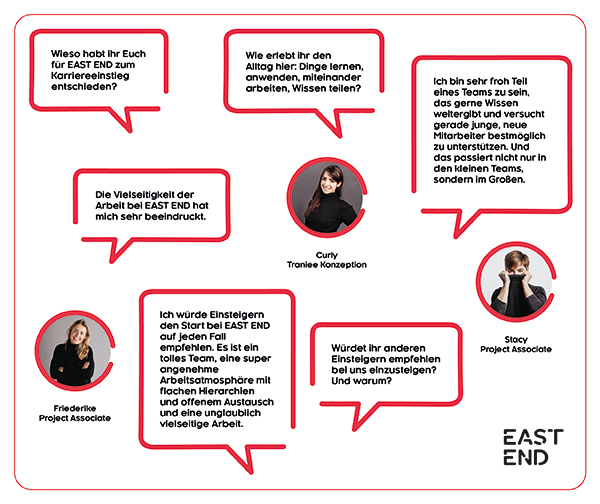 Campus
The EAST END CAMPUS is intended to provide everyone with regular further training opportunities and to anchor new trends, important know-how and special branch knowledge in the entire team.
Here, on a regular basis we invite internal and external experts and approach one topic of the event & communications industry from each of the categories: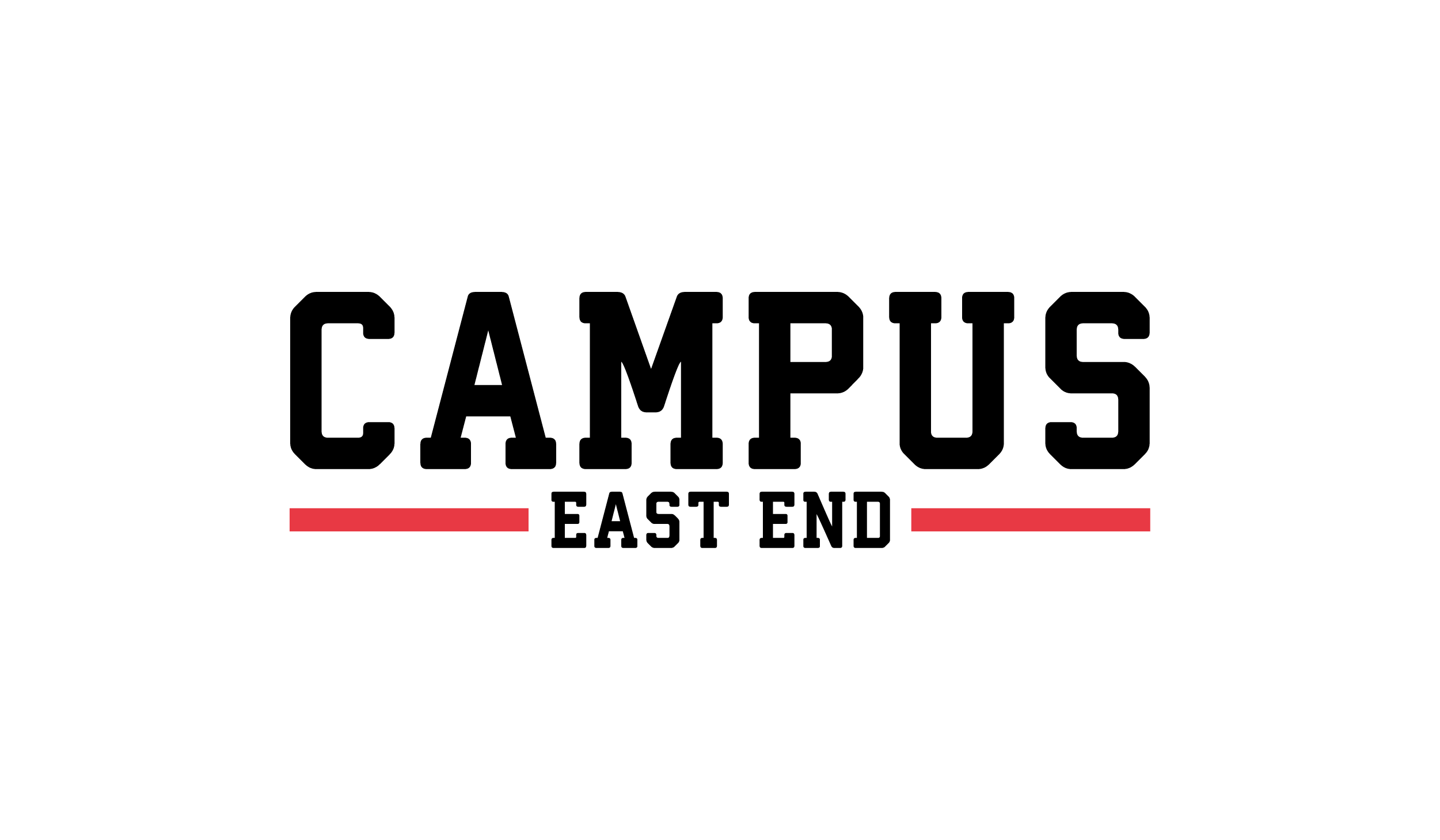 BASIC: Deepening of the general expertise that makes up the "tools" of any event agency with topics such as exhibition stand construction, technics, catering, station or running regie.
ADVANCED: Individual further training on further specialist topics and personal skills – e.g. rhetoric, presentation, project management or business English.
PROFESSIONAL: Special knowledge about communication channels for the extension of brand experiences – e.g. digital & social media, PR, sponsoring or media planning.
All employees, whether they are beginners or old hands at events, can visit the various CAMPUS offerings and receive a certificate of participation.
Application Process

01
Application
Send us your application files easily via our online form.

02
Feedback
After receiving your application,we will get back to you soon.

03
Telephone interview
The next step is a first telephone exchange.

04
Personal
After that, we want to get to know you better in person.

05
Your Start
Following the successful introduction meetings: welcome to the team!
PERSPECTIVE – ONBOARDING AT EAST END
Congratulations! You're part of the team. Soon your first day of work at EAST END begins and we will be there to advise and support you.
Aside from your team and a small surprise, your own personal mentor awaits. An experienced colleague will make your start at the agency easier, assisting through the first hours, days and weeks. Survived the fiery beginning? After a month, you can give your first feedback during lunch with your mentor.
On the first day; you are given a detailed tour, during which all employees from the different areas will introduce themselves to you. You get a glimpse of who is responsible for what in the agency. And, of course, you can ask questions at any time.
During the first days and weeks, you will become familiar with everyday life at the agency. Naturally, your team is responsible for this, but the EAST END CAMPUS also offers valuable courses to introduce you to our systems and processes. This will prepare you for an optimal start.
Above all, during the first months, an exchange of views with you is valuable. You get regular feedback from your team and find out where you stand and what opportunities are available to you in an employee appraisal.
Insight at Instagram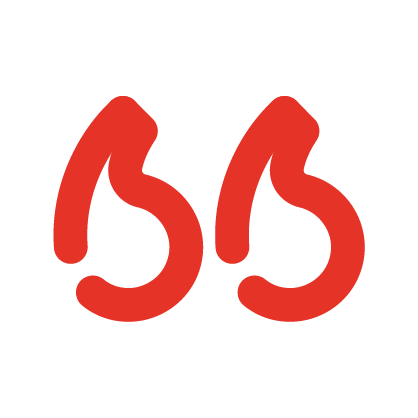 "Our agency enjoys a diverse client base for which we implement various event formats. This means that it always remains exciting and you progress professionally with each project. EAST END offers diversity, development, inspiration and a thriving career!" – Meggi (Project Manager)
"Even as someone with a lot of career and branch experience, you can learn a lot here." – Margot (Senior Project Manager)
"The team spirit at EAST END is one-of-a-kind. The people who work here make the difference." – Norman (Account Director)
"From the very first minute, you're entrusted with a lot of responsibility. You are not only encouraged, but also challenged and learn a lot in a short time." – Vera (Trainee Marketing)
"A very friendly and smooth start is made possible for new people. The EAST END CAMPUS provides you with all the important basics for the start." – Kim (Junior Project Manager)
"It is never boring here." – Phoebe (Senior Conceptioner)
Kontakt
Have questions about our jobs or your application? Then get in touch with us – we are looking forward to the exchange.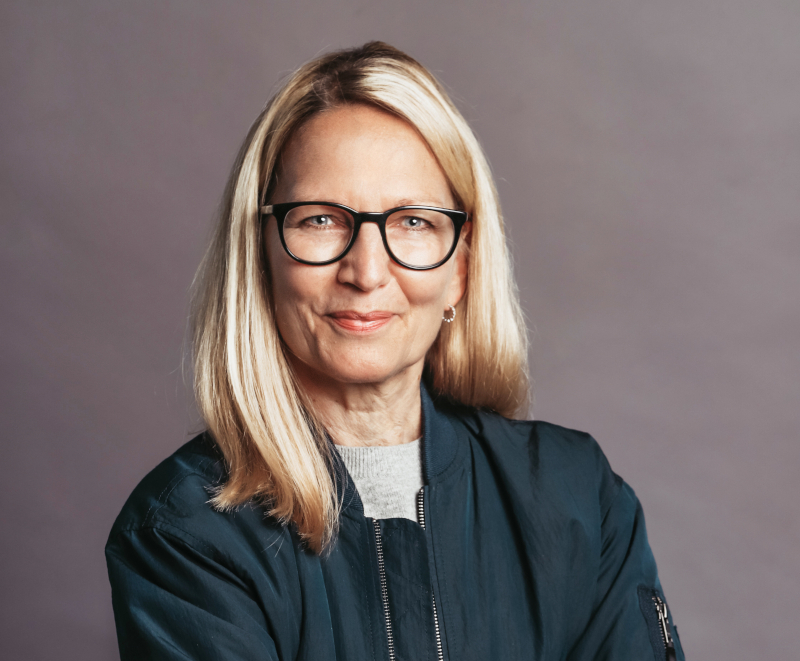 Bettina Kasakewitsch
Director
Human Resources
T +49 40 899 60 61 62
Send E-Mail
Auszeichnungen
GERMANY'S FINEST – FOCUS MONEY and DEUTSCHLAND TEST have collected and evaluated millions of customer reviews together with partners. In the category event agencies, EAST END took 1st place.
TOP SME Employer 2018 & 2019 – FOCUS-BUSINESS has chosen EAST END as the top employer for SMEs.
kununu TOP COMPANY – Recommended by employees. We have achieved a minimum number of points and ratings. This shows that we care about the well-being of our employees and that they rate us well.
kununu OPEN COMPANY – We live openness! We cultivate a proactive approach by calling for the evaluation of our company and responding to comments.